Northern Ontario's Premier Mining Contractors

Legend Mining Contracting is a Sudbury based mining contracting company with a focus on Quality. We meticulously plan our jobs and the safety requirements of the job, work the plan and audit the work completed to continuously improve our capabilities. We believe that our employees are our most valuable asset and are the driving force behind our success. We are comprised of an experienced group of senior executives, project managers, contract miners and skilled tradespeople with expertise in underground and surface construction, mine rehabilitation and development mining.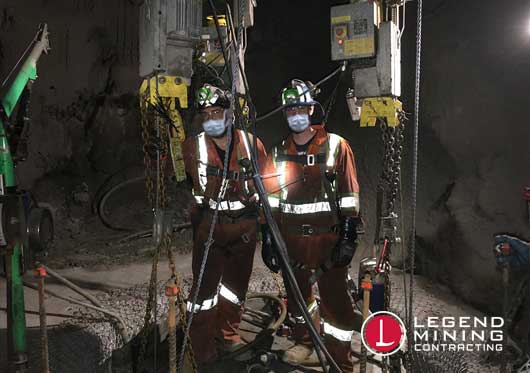 From our front office of skilled and experienced executives and project managers to our highly trained contract miners and in-demand skilled tradespeople, our top priority is delivering expert services to our clients on-time, above expectations, and most importantly – in the safest way possible.

At Legend Mining Contracting, integrity is a core value in everything we do.  When we state people are our greatest asset, we understand that as an organization, we demonstrate that value by taking care of our people. We believe the best way to demonstrate integrity and values is to ensure our team goes home safe every day.  Legend Mining Contracting has learned that safety must be intimately integrated into every department, as it cannot sit outside of project administration or execution.  Our safety team includes all aspects of our business, from owners to general managers, site managers, safety managers, coordinators, and crews.
Every project begins and ends with an integrated safety culture facilitating Legend Mining's Contracting commitment to our team and our clients.
NEWS, PROJECTS & CAREER OPPORTUNITIES





Our Location
1275 Kelly Lake Road, Sudbury, ON
Please fill in the form below to leave us a message: