Legend Mining is a Sudbury based mining contracting company founded in 2016. In that short time, we have built a reputation as a highly motivated and skilled group eager to take on challenges and build a solid reputation. Our accomplishments include mining construction, rehabilitation, mine development, production mining and surface infrastructure remediation including dams. We care about our clients and our team and we are keenly aware that our reputation is our work. Our team is comprised of industry experts to ensure a strong core knowledge in any project and we embrace new challenges with direction using project and work management principals, asset management strategies as well as execution and completion integrity.
Legend Mining is committed to providing a safe productive work environment, for our employees, clients, and surrounding communities. We focus on delivering quality work, on time, and on budget by applying proven and innovative approaches and working with our clients to ensure their needs and expectations are achieved.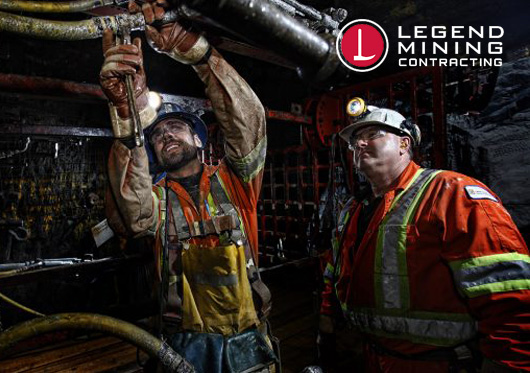 Legend Mining's core values come from our collective passion to succeed in a competitive environment. We know we need to perform safely and that our work will require the highest quality to build lasting relationships in this industry. Our team understands the importance of integrity and transparency. We believe building that kind of team requires strong communication systems, engagement, the real opportunity for growth and advancement as well as inclusion in the journey. We know our clients recognize this culture and understand its value.